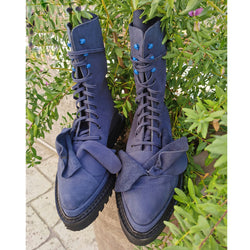 In Bloom Midnight booties
SKU: B925 . 882 . B01-35
In Bloom Midnight booties
* dark blue nubuck lace-up booties, floral details, unlined uppers, blue accessories, natural leather interior, high sole, black sole
Crafted with meticulous care, these designer lace-up booties are more than just shoes; they're a statement of your unique fashion identity.
Picture yourself stepping into a world of dark navy nubuck elegance, each step adorned with exquisite floral details that dance in the moonlight. The unlined uppers embrace your feet in pure comfort while showcasing the intricate craftsmanship that sets Mihaela Glavan apart.
These aren't just black boots; they're a canvas of romance and fantasy. With a natural leather interior, every wear becomes a luxurious experience, caressing your feet with each stride. The high sole not only adds a fashionable edge but also elevates your stature – both literally and metaphorically.
Designed for the urban trendsetter and the boho spirit alike, these lace-up platform booties make every outfit memorable. From summer soirées to festival nights, from city streets to whimsical countryside strolls, they embody versatility that's as boundless as your dreams.
The fusion of style and substance is embodied in the black sole, offering a strong foundation for your every adventure. Whether you're exploring the cityscape or dancing under the stars, these cool boots are your companions through it all.
Mihaela Glavan's "In Bloom Midnight" booties aren't just shoes; they're an extension of your personality. Handmade with precision, each pair tells a story of craftsmanship and artistry. So, dare to stand out, dare to embrace the romantic details, and dare to make a statement.
Embrace the magic of unique, stylish, and handcrafted footwear. Elevate your shoe game with "In Bloom Midnight" booties and let your feet become a canvas of floral-inspired elegance.
Words Fashioned with AI
SHIPPING
The products are being delivered in maximum 15 working days.


RETURNS
Our policy lasts 14 days. If 14 days have gone by since your purchase, unfortunately we can't offer you a refund or exchange.

To be eligible for a return, your item must be unused and in the same condition that you received it.
The refund will be made in maximum 14 days.
Use the return sheet found in your product box to issue a product return.
CONDITII DE RETURNARE
Produsele se pot returna în termen de 14 zile, costul transportului fiind suportat de către Dvs. Recomandăm să păstrați dovada trimiterii coletului (nr de AWB).
Rambursarea sumei se face automat, din sistem, în termen de maxim 14 zile de la data sosirii returului în showroom.
Va rugăm să folosiți formularul de retur aflat în cutie pentru a solicita returul unui produs.
Pentru a fi eligibil returului, produsul trebuie să fie nefolosit și exact în starea în care l-ați primit!
Nu se va lua în considerare returul produsului în cazul în care nu este însoțit de formularul de retur. Dacă l-ați pierdut, va rog să ne contactați la adresa de email: shop@mihaelaglavan.ro, pentru a vă trimite o copie a acestuia.
În cazul în care produsul prezintă orice deteriorare, altă decât defect de fabricație, avem dreptul exclusiv și unilateral de a decide returnarea parțială a sumei, în fucție de situație.