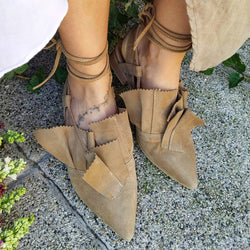 Lullaby beige suede ballerinas
SKU: P686 . 754 . P22-35
Lullaby beige suede ballerinas
Beige suede ballerinas, floral design  inspiration, natural leather lining, beige suede laces, beige, 2 heels sole
"Lullaby" Beige Suede Ballerinas by Mihaela Glavan are more than just footwear; they are a work of art.
Our Beige Suede Ballerinas draw inspiration from nature's beauty, featuring delicate floral design details that add a touch of whimsy to your ensemble. Crafted with the utmost precision, these fashionable shoes are a testament to style and quality.
The allure of these flat shoes lies not only in their striking aesthetics but also in their exceptional comfort. With a 2 cm heel, they provide the perfect balance between elegance and ease, making them ideal for all-day wear.
The beige suede laces add a charming contrast to the floral-inspired design, while the natural leather lining ensures breathability and durability. Every step you take in these ballerinas exudes confidence and grace.
What sets our "Lullaby" ballerinas apart is their uniqueness. Each pair is handmade with care, ensuring that you receive a one-of-a-kind product. The attention to detail and high-quality craftsmanship shine through in every stitch.
The beige sole adds a subtle touch of sophistication, making these ballerinas versatile enough to pair with casual or formal outfits. Whether you're headed to a brunch, a business meeting, or a romantic dinner, these shoes will be your go-to choice.
Words Fashioned With AI
SHIPPING
The products are being delivered in maximum 15 working days.


RETURNS
Our policy lasts 14 days. If 14 days have gone by since your purchase, unfortunately we can't offer you a refund or exchange.

To be eligible for a return, your item must be unused and in the same condition that you received it.
The refund will be made in maximum 14 days.
Use the return sheet found in your product box to issue a product return.
CONDITII DE RETURNARE
Produsele se pot returna în termen de 14 zile, costul transportului fiind suportat de către Dvs. Recomandăm să păstrați dovada trimiterii coletului (nr de AWB).
Rambursarea sumei se face automat, din sistem, în termen de maxim 14 zile de la data sosirii returului în showroom.
Va rugăm să folosiți formularul de retur aflat în cutie pentru a solicita returul unui produs.
Pentru a fi eligibil returului, produsul trebuie să fie nefolosit și exact în starea în care l-ați primit!
Nu se va lua în considerare returul produsului în cazul în care nu este însoțit de formularul de retur. Dacă l-ați pierdut, va rog să ne contactați la adresa de email: shop@mihaelaglavan.ro, pentru a vă trimite o copie a acestuia.
În cazul în care produsul prezintă orice deteriorare, altă decât defect de fabricație, avem dreptul exclusiv și unilateral de a decide returnarea parțială a sumei, în fucție de situație.